Yukinoshita Beniume

Name

Kanji

雪下紅梅の木

Rōmaji

Yukinoshita Beniume

Literal English

Red Plum Tree Under Snow

Debut

Manga

Nurarihyon no Mago Chapter #110

Anime

Nurarihyon no Mago Episode #18

Appears in

Anime and Manga

Technique Data

Users

Rikuo Nura

The list of properties to be used for the data fields has not been specified properly.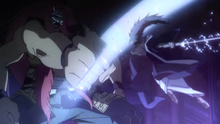 Yukinoshita Beniume (雪下紅梅の木; Literally meaning "Red Plum Tree Under Snow") Using the Izutsu method, her fear coats Rikuo's sword in swirling patches of ice that freeze whatever they touch. It is represented by a pair of snowflake-shaped markings.
Ad blocker interference detected!
Wikia is a free-to-use site that makes money from advertising. We have a modified experience for viewers using ad blockers

Wikia is not accessible if you've made further modifications. Remove the custom ad blocker rule(s) and the page will load as expected.