Wind Formation: Sand Strike Whip

Name

Kanji

風の陣型・砂打ちの鞭

Rōmaji

Kaze no Jinkei, Sunauchi no Muchi

Debut

Manga

Nurarihyon no Mago Chapter #23

Anime

Nurarihyon no Mago Episode #11

Appears in

Anime and Manga

Technique Data

Type

Wind

Users

Muchi

The list of properties to be used for the data fields has not been specified properly.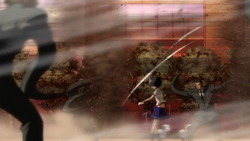 Wind Formation, Sand Strike Whip is a technique Muchi and his subordinates are around an opponent and are creating a sandstorm of poisonous wind. It can be seen as a regular windstorm, but with rocks undetected. It can also trap his opponent which that the user can strikes against him undetected.
Ad blocker interference detected!
Wikia is a free-to-use site that makes money from advertising. We have a modified experience for viewers using ad blockers

Wikia is not accessible if you've made further modifications. Remove the custom ad blocker rule(s) and the page will load as expected.