Description
Edit
Ukiyoe Town (浮世絵町, Ukiyoe-chō) is located in the heart of Tokyo, in Kantō, and is the headquarters of the Nura Clan, as the main house is located there. The town is Nura Clan territory, although it is not fully controlled.
Locations in Ukiyoe Town
Edit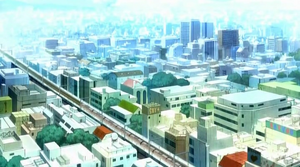 In the original oneshot, it was called "Aratama Town."