Rikuo, Making a Declaration

(リクオ、宣言す, Rikuo, sengensu)

Chapter Info

Volume

16

Chapter

134

Next
Arc

Debut

Items
[[

The list of properties to be used for the data fields has not been specified properly.
No values specified.

|

The list of properties to be used for the data fields has not been specified properly.
No values specified.

]]

Shikigami
[[

The list of properties to be used for the data fields has not been specified properly.
No values specified.

|

The list of properties to be used for the data fields has not been specified properly.
No values specified.

]]
Rikuo, Making a Declaration
(リクオ、宣言す,
Rikuo, sengensu
) is chapter 134 of the
Nurarihyon no Mago
manga written by
Hiroshi Shiibashi
.
After the battle with
Hagoromo Gitsune
 and the rebirth of
Abe no Seimei
. Rikuo found out the truth about the death of his father and the mysterious female child that stabbed him (who was revealed to be 
Yamabuki Otome
reborned.) Rikuo, enraged and determined, decided to take the position of the third immediately to defeat Seimei. 
The chapter starts with Rikuo going to the meeting to declare his seat as the 3rd leader of the Nura clan. Before he enters, he looked back on what happened that day. Gramps asked him is he's sure about it, he responded by saying yes because after all Hagoromo Gitsune is the leader of Kyōto Yokai. For betraying the beliefs of the Kyōto Yokai, claiming the title of the leader of the Hyakki Yakou, and for killing Rihan, his father and the ayakashi he loves, he shall never ever forgve Seimei. He then proceeded, asking Yura for a request.
The Nura clan went to the Keikan main house. Hidemoto the 13th and Nurarihyon talked and reminisced about old times and also came to the conclusion that Seimei will probably come back from hell a year after.
Rikuo's Request
Edit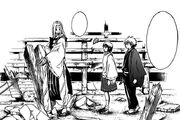 Yura and Rikuo went to
Akifusa Keikain
, Rikuo introduced himself, gave him what's left of the
Nenekirimaru
and asked him to build a blade that surpasses the strength of the Nenekirimaru in order to defeat Seimei.

Hidemoto suddenly appears and says that he will also help Akifusa and teach him what he knows. Akifusa, touched and teary-eyed, asked if Rikuo will be fine if it's him with current his level of power in which Rikuo happily responded and thanked him.
The Declaration
Edit
Back at the Nura House, present time, Gramps declared that it is time for the Nura clan to commence an all-out resistance against the Nue. Rikuo will be the one who will take the lead and that is the decision the upper echelons of the Nura clan, present that day.
Rikuo, in his yokai form, declared as he succeed the position of the third, that he will not forgive anyone who bears enmity against humans. He will also not forgive anyone who does not follow the moral code of conduct that they must be a yokai who shall never lose fear even in the face of defeat against other yokai. He shall turn the Nura clan  into a gathering of yokai who shall take the way things roll in his Hyakki Yakou.
The chapter marks the end of the Kyōto Arc.
Ad blocker interference detected!
Wikia is a free-to-use site that makes money from advertising. We have a modified experience for viewers using ad blockers

Wikia is not accessible if you've made further modifications. Remove the custom ad blocker rule(s) and the page will load as expected.