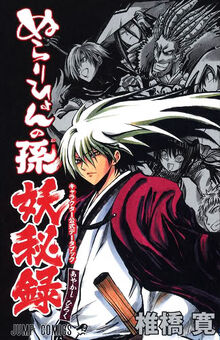 Nurarihyon no Mago Official Character Data Book: Secret Ayakashi Notes
(ぬらりひょんの孫 キャラクター公式データブック 妖秘録,
Nurarihyon no Mago Kyarakutā Kōshiki Dēta Bukku: Ayakashi Hiroku
) is the first character data book of the series
Nurarihyon no Mago
authored by
Hiroshi Shiibashi
.
It has been published on July 2, 2010 and it contains information on all the major factions in the series (from roughly volumes 1-12), as well as on Shiibashi and his assistants. It's ISBN is 4-08-874843-6 and has 264 pages.
Aside from information on individual characters, each section also includes an interview with the group's overall leader (or a proxy) and information on the group's headquarters, history and governing methods.
Ad blocker interference detected!
Wikia is a free-to-use site that makes money from advertising. We have a modified experience for viewers using ad blockers

Wikia is not accessible if you've made further modifications. Remove the custom ad blocker rule(s) and the page will load as expected.