Mt. Osore
(畏山,
Osore-zan
) was a sacred mountain, located near the
Tōno Village
. Known by it's history, it was the place where the Shugensha aspiring to expel demons. Mt. Osore was also known as a mountain where
yōkai
's rarely approach it
[1]
.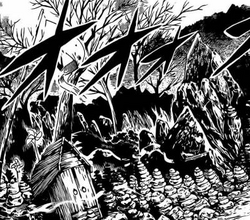 It is also a perfect location to perform the
Spirit Summoning
. Mt. Osoore has a large spirits buried there, which it evenly was given the name, the "Spirits Peak"
[2]
.
It is also known by it's high concentration of
fear
, which can make the person suffer ill effects if he doesn't concentrate well or if he doesn't take some rest. Mt. Osore is also the location where a lot of sword smiths where been creating their own unique swords, but they suffered by the powerful fear the mountain has
[3]
.
References
Edit
↑ Nurarihyon no Mago manga; Chapter 186, page 16
↑ Nurarihyon no Mago manga; Chapter 187, page 2
↑ Nurarihyon no Mago manga; Chapter 187, page 11
Ad blocker interference detected!
Wikia is a free-to-use site that makes money from advertising. We have a modified experience for viewers using ad blockers

Wikia is not accessible if you've made further modifications. Remove the custom ad blocker rule(s) and the page will load as expected.