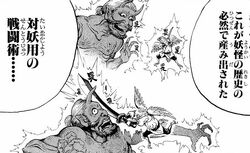 Hyoui (鬼憑, lit. "Haunting") is the second stage of activating "Fear" in yōkai battles. It is the process by which a yōkai materializes their "fear" into an attack that can sever an enemy's "fear." The technique comes from the history of yōkai and is a battle tactic to be used against each other. There are a wide variety of attacks and abilities derived from each yōkai's individual "fear."
Examples of Hyoui Techniques
Edit
Hyoui Gallery
Edit
Ad blocker interference detected!
Wikia is a free-to-use site that makes money from advertising. We have a modified experience for viewers using ad blockers

Wikia is not accessible if you've made further modifications. Remove the custom ad blocker rule(s) and the page will load as expected.