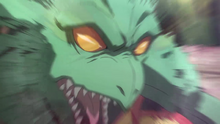 Hatsu (鬼發; Literally meaning "Manifestation") is the first stage of activating "Fear", and is simply an attempt to scare an opponent by exerting a frightening aura. Those affected by "Manifestation" will experience an overwhelming sense of intimidation, and depending on their opponent's skills, may hallucinate. This aura produces a palpable wall of pressure in the atmosphere, and cutting through this tension to reach the enemy is an important part of Yōkai combat.
Ad blocker interference detected!
Wikia is a free-to-use site that makes money from advertising. We have a modified experience for viewers using ad blockers

Wikia is not accessible if you've made further modifications. Remove the custom ad blocker rule(s) and the page will load as expected.