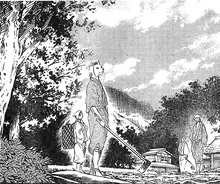 Hanyō Village (半妖の里, Hanyō no Sato; Literally meaning "Demi-Yōkai Village") is known as a happy village where Rihan and Nurarihyon often goes. Known by it's villagers are happy and known that the village is bound together by love[1] located in Mt. Fuji[2]. During a conversation between Rikuo and Wakana, she told him that Rihan's grave is located in the Hanyō Village, in a place which possesses a strange power[3].
Sea of Trees
Edit
The location has been located in Mt. Fuji, known as the location where the fear flows forth. It is the location where Nurarihyon and a strange person resurrected Hagoromo Gitsune[4][5]. It is also the location of Rihan's grave[3] and the place also seems to possess a strange power[3], which is mostly be resurrection but there can be more.
References
Edit
Ad blocker interference detected!
Wikia is a free-to-use site that makes money from advertising. We have a modified experience for viewers using ad blockers

Wikia is not accessible if you've made further modifications. Remove the custom ad blocker rule(s) and the page will load as expected.